Meet Dr. Nicholas Marini
Doctor of Chiropractic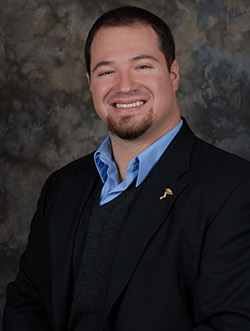 Dr. Nick knew he wanted a career that allowed him to serve others and help them in a meaningful way, so he pursued a career in medicine. His father, Dr. Steve, was a chiropractor. Dr. Nick had read his father's writings and the lectures he'd given, but he'd never really understood the difference between chiropractic and conventional medicine.
Dr. Nick asked his father to explain the pros and cons of each type of practice. It soon became clear to him that chiropractic is the most vitalistic discipline. It's based on the concept that the body has the ability to heal itself. Medicine, on the other hand, is more mechanistic. Medicine is focused on the control and treatment of symptoms more than the root cause of a problem.
Like Father, Like Son
In those long conversations with his dad, he decided that chiropractic made more sense and was more logical. It was evident to him that finding the root of the problem and allowing the body to heal itself are better for the patient. Making that dream come true for his patients, making it come to life, is very appealing to Dr. Nick. It's very fulfilling to be the voice of reason, an alternate opinion, and a reliable source of health information.
Every patient whose condition improves objectively is a success story. It isn't just about reducing pain. By correcting the underlying structural problems within the spine, and allowing the function of the body to return to normal, many patients saw changes in their bodies that they didn't think were possible.
Success stories include
Patients with improved scoliosis
HIV patients with increased T-cell counts
Pregnant women who have natural, easy births with properly positioned babies
One of Dr. Nick's greatest successes has been helping a young woman with severe scoliosis whose dream was to walk down the aisle on her wedding day. Structural chiropractic care helped her realize her dream.
First, Do No Harm
Dr. Nick completed his chiropractic education at Life University. One of his greatest influences was professor Matthew McCoy. Chiropractors have a vast array of options when it comes to patient care. Individual practitioners may provide care that runs the full spectrum from something resembling physical therapy to exclusively treating subluxations. Dr. McCoy reminded his students that chiropractors, by law, are still doctors and bear the same responsibilities as MDs. To this day, this has stayed with Dr. Nick and he carries the weight of this responsibility very seriously.
At about this same time, Dr. Nick realized that some chiropractors neglect the science behind chiropractic. Chiropractic care represents a trifecta of philosophy, art and science. The philosophy of chiropractic is the why, the passion. The art is in how you use the techniques. The science reflects the research behind the care. It's the connections with anatomy, neurology and immunology. Dr. Nick wanted to find a healthy balance between the flash and the substance of chiropractic. He wanted to ensure that all three elements of chiropractic care were present in his practice.
We Are Family
The Marini family is a large, close-knit, Italian-American family. Dr. Nick spends most of his free time enjoying the company of his family. His girlfriend also comes from a large, Italian-American family, and he spends quite a bit of time with her family as well.
Dr. Nick serves as an instructor for the national boards. He spends his weekends teaching chiropractic students about the basic sciences. He also teaches students how to read X-rays and be proficient in them.
An accomplished musician, Dr. Nick performs as part of a semiprofessional choir. He also enjoys scuba diving and traveling. Dr. Nick believes life is all about family and the exploration of all there is in this world. He values artistry, the mysteries of life and the pursuit of knowledge, all of which he sees embodied in travel and the practice of chiropractic. Dr. Nick sees his practice as a direct extension of the way he lives his life, and he wants to give his patients the opportunity to live life to its fullest as well.
We invite you to get to know Dr. Nick and start living out your dreams.
Contact our office today
to schedule your free new patient consultation.
---
Marini Family Chiropractic | (610) 337-3555